DR. MIKE RADICE
At Radice Family Chiropractic, we emphasize a "whole-person" approach to help 
our patients achieve wellness naturally. We provide comprehensive chiropractic 
care using a variety of techniques. We also offer massage therapy, physiotherapy, 
nutrition and exercise guidance. This holistic approach is what allows us to help 
our patients achieve pain relief, maintain better health, and improve their overall 
quality of life.
Dr. Mike Radice is a 2001 graduate of Palmer College of Chiropractic (Davenport, IA) 
and interned with several doctors prior to opening Radice Family Chiropractic in
2003. Before obtaining his chiropractic degree, Dr. Mike graduated from the United 
States Naval Academy (1987) and enjoyed his military career as well as his time 
spent as a consultant in the engineering field.
A chiropractic patient since age twelve, Dr. Radice understands the importance of 
proper care not only for adults, but for the entire family. He remains involved in 
many sports and brings his chiropractic training and expertise to his patients' 
exercise activities and hobbies. An avid golfer, Dr. Mike has a true appreciation of 
how chiropractic can positively affect performance and keep even the most active 
patient away from injuries.
He looks forward to helping his patients adopt healthier habits in all aspects of 
their lives. Whether it's nutrition, exercise, stress injuries, or performance, Dr. Mike 
can help you adopt an integrated approach to health and wellness.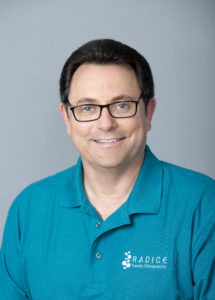 RADICE FAMILY CHIROPRACTIC STAFF
Our professional staff is dedicated to making your office experience a positive one. All of our professionals have one 
goal in mind — helping you feel better, faster. We look forward to meeting you and assisting you with your healthcare 
needs and goals.
Contact us today to get started on the road to wellness, naturally.